79-year-old male patient
Re-Revision, Treatment with MP Reconstruction System, MobileLink including Dual Mobility und TrabecuLink Augment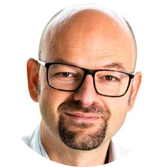 Dr. Steffen Brodt
Head of Department Hip
Waldklinken Eisenberg
Germany
Low-grade infection of the right hip joint and metallosis

2007: THA right side

2008: Stem replacement with aseptic loosening

Multiple dislocations

2011: Revision of inlay and head due to detected bacteria (proprioni)

2012: Re-Revision of inlay and head due to detected staph. capitis and proprioni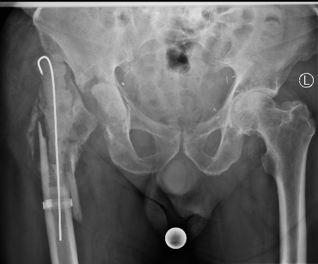 X-ray Girdlestone, December 2020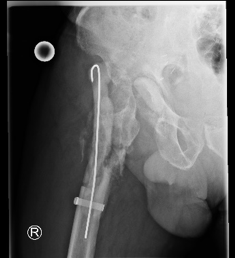 X-ray Girdlestone (lateral), December 2020
12/2020: Explantation THA right, debridement, spacer
Defect acetabulum: Paprosky IIB
Defect femur: IIIB with femoral fracture
02/2021: Reimplantation of a THA right
Components:

MP Reconstruction System Stem: cementless, length 210 mm, prox. diameter 16 mm Neck Segment: XXL,
length 65 mm, CCD 126°
TrabecuLink Augment size 54 mm, depth 10 mm
MobileLink Acetabular Cup System Shell: size 62 mm, TiCaP coated Dual Mobility Insert: size F, Dual Mobility Liner
Bone Screw 6.5 mm x 25 mm
Prosthesis Head A ø 28 mm, CoCr, size M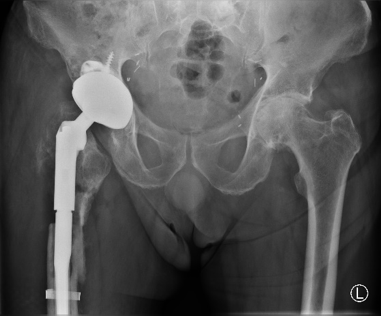 X-ray postoperative, February 2021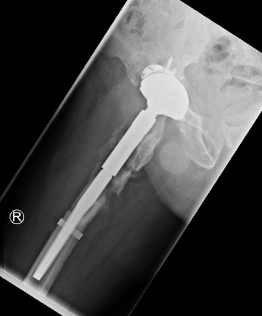 X-ray postoperative (lateral), February 2021
In this case, the LINK revision portfolio enabled a secure, cementless restoration of the complex revision case.
The MP Reconstruction System allowed the defect zone in the proximal femur to be safely bridged. Even in a rather short femoral segment, the cementless MP provided secure support without sintering of the stem. Due to the modularity in the area of the neck segment, the length could be individually adjusted.
The large defect in the area of the acetabular rim was covered with an augment. This created optimum stability. Thus, a "normal" press-fit cup could be implanted.
Despite the extensive defect zones, a stable and safe revision THA was successfully be implanted with the LINK Hip Revision Systems.